_______________________
THE POEE MYSTEREE OATH

The Initiate swears the following:
FLYING BABY SHIT!!!!!



(Brothers of the Ancient Illuminated Seers of Bavaria sect may wish to substitute the German:


FLIEGENDE KINDERSCHEISSE!
or perhaps
WIECZNY KWIAT WTADZA!!!!!
which is Ewige Blumenkraft in Polish.)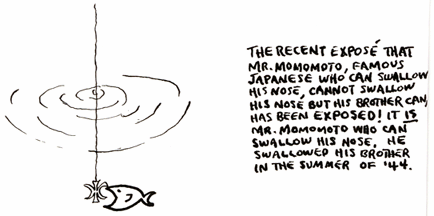 Corrections to last week's copy: Johnny Sample is
offensive cornerback for the New York Jets, not fullback
as stated. Bobby Tolan's name is not Randy, but mud. All
power to the people, and ban the fucking bomb.